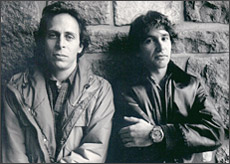 PACIFIC STREET FILMS
Joel Sucher and Steven Fischler, friends since the age of nine, founded Pacific Street Films in 1969. In a career spanning over three decades they've produced, directed, written and edited over 100 films, as independents and for venues as diverse as the United Nations and Saturday Night Live.
ANARCHISM IN AMERICA

American Studies Political Science Sociology Pacific Street Films

A colorful and provocative survey of anarchism in America which attempts to dispel popular misconceptions and to trace its historical development, both as a native American philosophy stemming from 19th century American traditions of individualism and as a foreign ideology brought to America by immigrants. It features rare archival footage of significant personalities and events in anarchist history.